If clean water came out of your tap when you turned it on this morning, consider yourself fortunate. Some 40 per cent of the world's people face water scarcity.
And the problem is getting worse. It is projected that one in four people will encounter and go through recurring water shortages by 2050. 
Achieving United Nations Sustainable Development Goal (SDG) 6 - "ensure availability and sustainable management of water and sanitation for all" - requires radical investment in adequate infrastructure as well as protecting and restoring water-related ecosystems. 
But there is some hope. 
Thanks to a water monitoring system developed by ITU Innovation Competition winner Denis Ogwang, Uganda is on its way to achieving SDG 6.
Uganda's water crisis
In Uganda, millions of people lack access to safe water. Water-borne diseases such as diarrhea, typhoid and cholera are common throughout the country, adversely affecting children under the age of 5.
Clean water pumps are commonly distributed throughout the country to provide rural and remote communities - which make up more than 80 percent of the population - with access to safe water. But they often break down and are difficult to fix without the right equipment, leaving many in a state of disrepair for several weeks or months.
After watching his friends suffer from preventable water-borne diseases while growing up in rural Uganda, Denis Ogwang decided to do something about it.
His idea? "To make sure that the community always has access to clean and safe water and in the event that there is a breakdown in the water supply system, all the development partners and stakeholders can be informed in real time," said Denis Ogwang, a 2019 ITU Young ICT Leader Forum participant, and the Founder and Technical Lead of WaterKit.
How does it work? Community-generated data for clean water resources
The WaterKit mobile app gathers real-time, community-generated data, recording and monitoring the daily functioning, hygiene and reliability of local water resources such as water pumps and boreholes.
Volunteers from the community are trained to use the mobile application and perform a simple water quality test and monitoring of the water points. "It was easy for our agents to actually start using this application right away," Ogwang said.
This information is then uploaded to WaterKit's cloud-based storage platform to help governments and humanitarian organizations make real-time policy decisions for better planning and action. 
"We have this constant and near real-time data that tells us about the quality of this water coming from this water source and how effective is the management of this water source," Ogwang said. "The results have been good. At the numbers that we are seeing, this could actually create a big change."
WaterKit is currently monitoring 1,227 water points in Northern Uganda. During the COVID-19 pandemic, WaterKit identified 47 broken boreholes and water pumps - 60 per cent were fixed as a direct result of WaterKit's monitoring and reporting system.
Ogwang hopes that the project will quickly expand throughout the country. While current monitoring and reporting is done remotely, Ogwang has developed a patent-pending Internet of Things solution that is powered by solar energy and to remotely monitor the water points.
"Our target is to cover almost all the boreholes and water pumps in Uganda in the next two or three years," he said.
The impact of ITU's Innovation Challenges 
Ogwang admits that he is not a naturally business-minded person - but participating in ITU's Innovation Challenges "changed his mindset."
"The ITU experience, the Summit and Forum, was an eye-opening opportunity for me and a very big opportunity for the life of WaterKit," said Ogwang. "From the Forum, the sharing and training that we went through, I was able to think of how I could model WaterKit into what business that can be self-sustainable that can live beyond me and my dream."
The ITU Innovation Challenges bring together all stakeholders needed to nurture an inclusive digital world. We call on innovators, entrepreneurs, small- and medium-sized enterprises, policy-makers, ecosystem builders and resource partners around the world to put forward their innovation, or idea for innovation. 
This blog was first published by ITU News


The Young ICT Leaders' Forum (YILF), an annual event co-organized by the International Telecommunication Union (ITU) and Busan Metropolitan city, has proven to be a "cool event", attracting a diverse young talent pool with every new edition. The 6th edition of the Young ICT Leader's forum will take place, once again this year, in Busan in the Republic of Korea. I am excited to share with you the journey that led to this edition and what we anticipate in this coming edition.
 "The journey of a thousand miles begins with one step." -- Lao Tzu
The YILF is not a regular competition for young innovators. It offers a space where youth change-makers in ICTs can network, connect and enhance their innovative ideas to transform their communities into smart communities. Previous winners went on to improve their solutions or use the recognition to gain access to more resources. Without access to new resources, many of these great ideas would have died in the 'valley of death,' cutting their entrepreneurial journey short.
It all started a few years ago with a Memorandum of Understanding (MoU) between the city of Busan and ITU. In previous editions of this event, we launched open calls for proposals to explore solutions to build Smart Cities. ITU defines a Smart City as "an innovative city that uses information and communication technologies and other means to improve quality of life, efficiency of urban operation and services, and competitiveness, while ensuring that it meets the needs of present and future generations with respect to economic, social and environmental aspects".  
We received many applications from innovators around the world, all working towards making their cities smarter. From Innovators proposing education solutions using Augmented Reality (AR) technology, to those with tsunami early warning solutions using Internet of Things (IoT), all wanted to make their cities smarter. These open calls were always followed with a selection and gathering of the winners in a well-orchestrated event in Busan.
There are many competitions and youth events out there.  What is quite unique with YILF is the policy and enabling environment dimension that ITU, as the lead United Nations agency for ICTs, can offer through its network of public and private sector decision makers and experts. In addition, the commitment to empowering the global ICT community, demonstrated by the Metropolitan City of Busan as a global Smart City leader, makes it the perfect partner to host the Young ICT Leaders Forum.
Learning, unlearning, and relearning is the key to innovation
Over the years, we decided to transform this Forum to fulfil its potential. The Forum was originally intended to bring together young ICT leaders aged 18 to 35, to promote their participation in the digital economy. The forum aims to achieve three strategic objectives:
Promoting the engagement of youth in the field of ICTs,
Decreasing the digital divide,
Promoting research on emerging ICTs particularly Internet of Things (IoT), among others.
 I participated in some of the previous editions of the forum as a judge, a mentor and an ITU expert, and thoroughly enjoyed every moment. I always felt we could do more with this great gathering of young minds.
Last year, it was requested that I lead from the ITU side the organization of the Fifth Edition of the YILF. I took advantage of this opportunity to do what I love most: hacking, flipping, and experimenting. To get more Smart Cities solutions in any community, there is a need for a better enabling environment that nurtures more inspiring success stories and encourages innovators. We thought a new experiment could start with a learning journey about achieving sustainable smart communities. With the blessing from our host partner, we changed the format and made an open call for 'Smart Cities Ecosystem Builders,' instead of the usual call for 'Smart Cities Solutions.' 
"We need to re-work, re-think, re-learn." -- YILF 2018 participant
Building a culture of innovation can be considered as a numbers game. This means experimenting with new initiatives, many of which might fail, but, hopefully some of them will succeed.
Some forum participants were disappointed with our new experiment. They assumed that, as with the previous editions, they were going to pitch their new startup ideas with the community. I must admit it was a selfish experiment to try to turn these young innovators into ecosystem builders.
One of my jobs is about ecosystem building to create sustainable enabling environments. I refer to this as "putting sustainable back" in the Sustainable Development Goals (SDGs) to address the opportunities of digital transformation. It is a passionate personal appeal to those working with new SDG goals to think about sustainability carefully.
After a rough start, it did not take long before most participants of the 5th edition of the YILF understood why ecosystem building will be instrumental in making their cities sustainably smarter. During last year's event, it became obvious that ecosystem building was already happening in some regions of the world with previous YILF participants.
There are many more YILF graduates who transformed with their experiences with the progamme.
Nelson Milla, a 2016 YILF participant from Honduras, is the classic example. He saw the necessity of it and the opportunities it offered to navigate a challenging environment in his home community. Another alumni of YILF is Victoria Masso, a 2018 participant, was already active as a mentor and entrepreneur in her community in Birmingham, but now has also become a great ecosystem builder.
After the first day of the event, I had dinner with Victoria and some participants. I was lamenting how difficult it was to tell stories (with my engineering background) and shared my quest for a story telling tool for the workshop. She sprang into action, and in less than 24 hours, she was leading a session on story telling during the second day. We have improved this story telling tool since and it has become one of the hottest tools within our toolbox that change-makers worldwide are falling in love with.
They came to Busan, they connected, networked and built their capabilities
Throughout YILF 2018, participants were actively engaged in collaboration, networking, capacity building, and co-creation in this four-day event. The first two days were dedicated to a boot camp workshop on ecosystem building, while the 3rd was dedicated to the Forum. The 3rd day of the event ended with a celebratory dinner party, a night that will be remembered for networking in the heart of Busan city. The last day was reserved to a study tour of the Busan smart ecosystem. All participants felt transformed with the experience. In the words of one of them: "I have been inspired by two considerable situations. The first is the method of learning, learning by doing. The second aspect is thinking outside the box, going further than what I have been taught." Another participant said, "This collective experience will prepare us for the future."
Through structured feedback during and after the event, we sought ideas on how to improve the experience of participants for the 6th edition. We learned a lot from this process.
One key lesson learned is that participants want to be part of a community prior to the event, but they also want to stay in touch as a community afterwards.
As a result, one immediate change we are making in this year YILF is to accommodate in our community three complementary profiles of innovators: the change markers with ideas, ecosystem builders, and entrepreneurs with solutions.  Another key change is the use of participatory tools (a social crowd ideation tool) to better engage this community before and after the event. We will also continue to come-up with new human centric tools as a core of our approaches to produce transformation with participants.
We will experiment with new tools at this year YILF to help innovators scale their solutions. We hope you will take the opportunity to lead and invite others to join us in this learning journey, in our reinvigorated community.
"Be the change that you wish to see in the world." -- Mahatma Gandhi
Please join us in making the 6th Edition of the Young ICT Leaders' Forum a success. Take  ITU innovation challenges to be part of a great community. Help us spread the word.
_______________
About the Author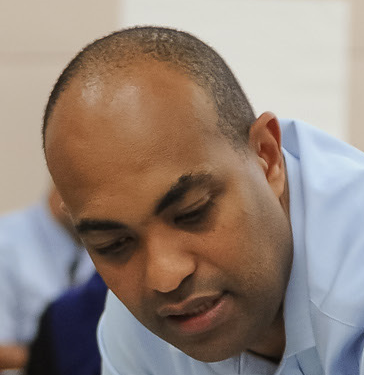 Moe Ba leads the Innovation Programme for the Development Sector at the International Telecommunication Union, the UN specialized agency for ICT/Telecommunication.
His role is to help strengthen ITU Membership capacity to accelerate digital transformation. His passion is to help communities unlock their potentials through stakeholder empowerment and connecting opportunities to resources.
Prior to joining ITU, Mr. Ba spent several years in the private sector including working in Silicon Valley and internationally. He is an expert on innovation policy and the development of platforms focused on innovation, ICT and telecommunication.