Why you do not have the next unicorn in your ecosystem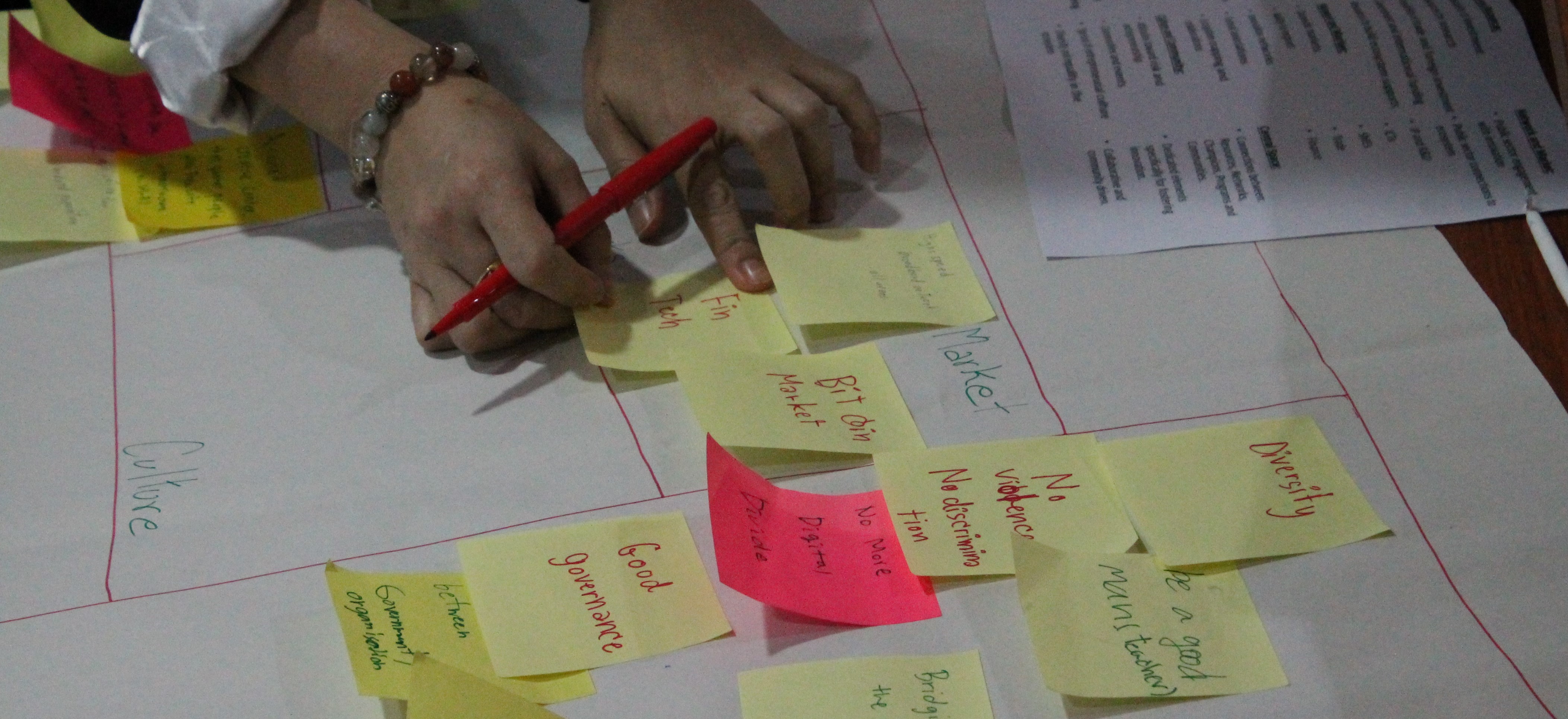 Last year, during the 2018 Young ICT leaders' Forum in Busan, Republic of Korea, we asked some young global talent to let us know what their ecosystems felt like for innovators. One group in particular demonstrated this well, in a sketch dubbed: "Joel's journey in the valley of death" reflecting on how it is like to be an innovator in an immature sub-Saharan ecosystem. At the 2018 Regional Innovation Forum in Oslo in Norway, when we ran this exercise for a more developed ecosystem in a high-income country, the problems were different, but the innovators also struggled with the same systemic issues.
With an estimate of over 300 million start-ups located in various clus...round the world, only very few ecosystems have the right innovation fabric to help their startups develop into the next unicorn (billion dollar valuation companies).
There is a white elephant in the room, and very few want to acknowledge it
A white elephant is rare and illustrates a big dream that may never materialize. Having one in the room gives new meaning to people avoiding difficult conversations about problems that they face. Digital development is at a crossroads, and your investments in the traditional inputs of innovation such as R&D may not make a big difference.
Creating the next Silicon Valley has been elusive and difficult, especially in the developing country context where less than 1% of GDP may be going to R&D. Following traditional Science Technology and Innovation (STI) experts' recommendations of investment in inputs such as R&D, infrastructure, and education does not guarantee the right results even for developed countries. In 2018, Switzerland ranked second in the Global Entrepreneurship Index, first in the Global Innovation Index, yet in the Global Startup Ecosystem Report, the only city that ranked well was Zug for blockchain and Fintech sub-ecosystems.
The "father" of 3M post-it notes, Dr. Geoffrey Nicholson, famously said: "Research is the transformation of money into knowledge, and innovation is the transformation of knowledge into money". Today, there is an abundance of knowledge in the world. However, given our increasingly more global and open economies, digital knowledge can be developed in the ecosystem of one country, but its value captured in a completely different country. This is an interesting paradox with significant inclusiveness impacts.
Countries need to understand how the money they are spending in innovation input is going to create jobs, growth, and income. If you are investing $1 and getting $0.5 back, why would you want to spend more money on a leaky system?
Having an exciting ecosystem is not enough, it has to be competitive with all the right ingredients
The minute a tech startup is born, it competes globally. In your community, you could be investing in talent and in getting them started through various programs or policies, only to see them migrate to a better performing ecosystem.
In recent interviews of stakeholders in Thailand that I conducted, I asked whether they have a "real teach unicorn" in Thailand. The answer was astoundingly "No! We only have companies with up to $400 million valuation". When I inquired as to why, the answer was insightful about the ecosystem: "The minute they reach a certain valuation, they go and register their company in Singapore or New York, or another better performing ecosystem".  The search for a unicorn in Thailand is ongoing.
Kenya is known for being the Silicon Savannah, with an aspiring ecosystem, but to date, no tech unicorn sighting has occurred.  During a country review of the ICT-centric innovation ecosystem in Kenya, I saw clear excitement in the young talent pool, but in the words of one stakeholder, "Young people have some talents, they have energy. But it burns out soon if that energy is not guided or supported to help build good companies".
Kenya and Thailand are no exception.  From Africa to Europe, and Americas to Asia, we can see the same struggles. Whether the ecosystem is considered mature like Thailand or nascent as in some sub-Saharan countries, there are many reasons for the lack of unicorns.
There may be a new brain drain in progress, and it is taking talents, resources and opportunities with it
Often coummities are proud of their startups finding a home in the more developed ecosystems. I am puzzled as there is a real leakage of resources and opportunities, and it has consequences for economic growth and inclusion in the local community. This is a brand new paradigm.
Harvard economist Clay Christiansen, while studying the theory of disruptive innovation by companies, realized that the traditional ways companies deliver products and services to serve the market can be ineffective in creating competitive solutions and lasting companies. "Thirty thousand new consumer products are launched each year. But over 90% of them fail—and that's after marketing professionals have spent massive amounts of money trying to understand what their customers want".  He theorized that customers hire a product or service to get a job done. But if we do not understand what this job is, and how the customer will use the product or service to get the job done, then we cannot come up with a competitive solution.
To aid in understanding this paradigm of ICT-centric innovation, ITU in its toolkit, "Bridging the Digital Innovation Divide", introduces the stakeholder interface canvas tool (also known as the innovation journey map). This tool helps innovators quickly analyse the performance of their ecosystem in covering the key activities needed to take innovations from pre-ideation to high growth. It describes the role each stakeholder group can take on to support entrepreneurs and innovators at each stage of their lifecycle.
Are you ready to take on the paradox?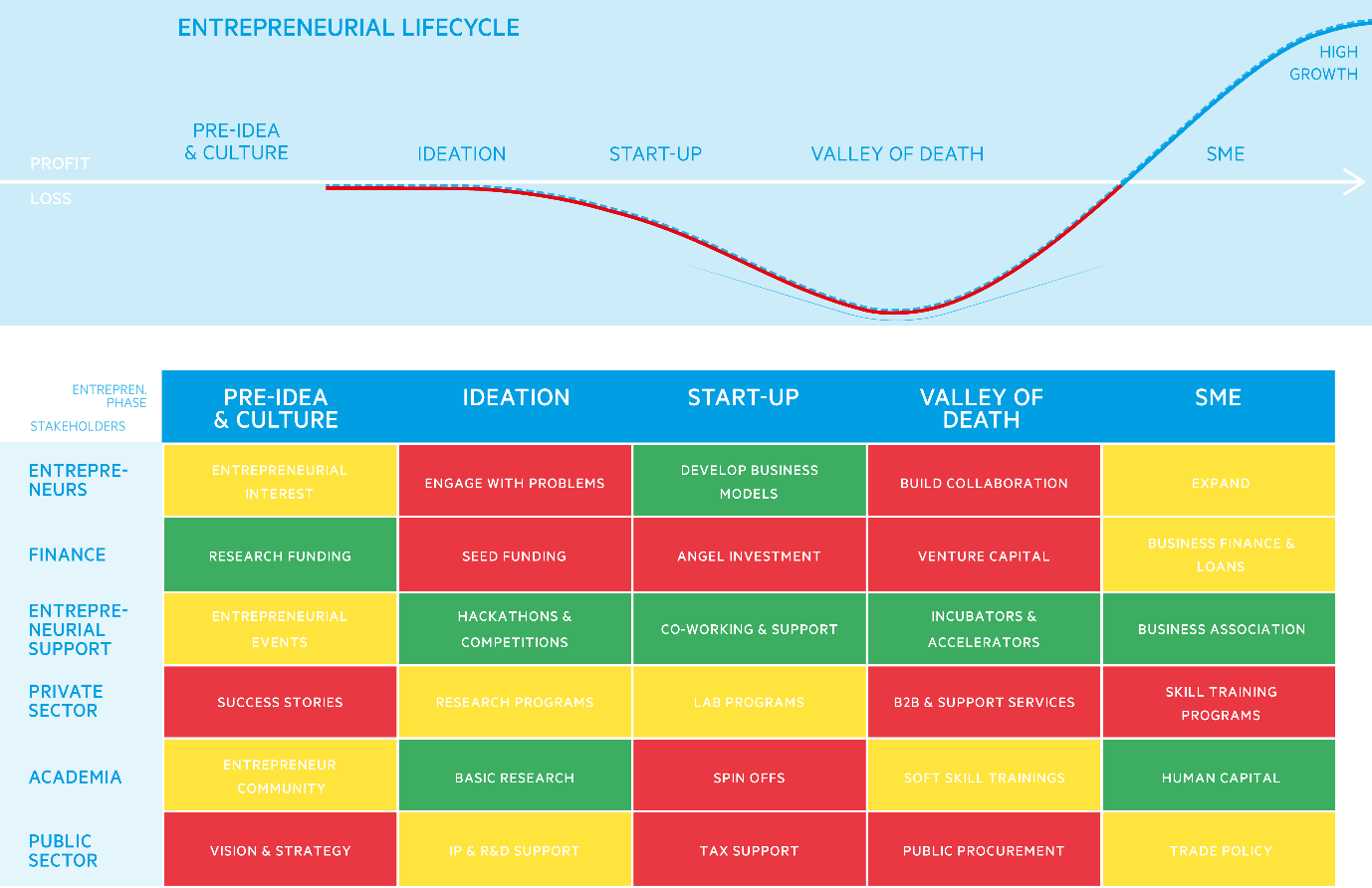 The canvas is based on the 'valley of death curve', which shows the lifecycle of innovation and entrepreneurship. The lifecycle reflects growing companies, and notably identifies the 'valley of death', a period after ideation when innovators require significant investment and support, and where there is a high risk of failure as a business. If any part of the entrepreneurial lifecycle becomes a common failure point, it will vastly reduce the chances of success for all entrepreneurship in the ecosystem.
Systems issues require systems solutions
In the model above, the framework looks at 30 micro-jobs to be done from six groups. Every one of these micro jobs could be done by numerous programs or policies from several organizations.  Three engines of growth must come together to create an ICT-centric innovation ecosystem: an innovation ecosystem, an entrepreneurial ecosystem, and a sound technology ecosystem. As in any engine analogy, the worst-functioning part must be replaced or the system is completely ineffective.
Failure to do so is one of key reasons why you may not have a unicorn in your community. In an interconnected ecosystem, policies and programs have to constantly change to be best in class. If they do not change, your ecosystem will be leaking resources and talent to a better performing ecosystem.  If a neighboring country has a nicer policy to attract talent and your country doesn't, then once innovators reach a certain roadblock for growth, they will migrate to your neighbors or even a far-distant ecosystem where they can grow.
Often investments are too focused on individual components. Very few think about the system's problems. A few organizations exist to care about such challenges, but they are few and far between, and often their scope is limited. Your traditional innovation agency may claim a stake in solving this problem, but the reality is different. The three engines of growth may not be coming together to enable the next unicorns in your community. This is the root cause of the paradox.
Are you ready to prepare the ground for the next unicorn in your community?
We have embarked on helping countries solve this paradigm through various products and services. One of the initiatives we have is helping countries develop a novel digital transformation center which will enable them to navigate highly-disruptive technological environments. Take your first step to transforming your community. 
If you want to take action against the new brain drain that is taking talent, resources and opportunities, and if you want to have the next unicorn in your community, take action. Rethink your three engines of growth. Unicorns are elusive but not impossible.
______________
About the Author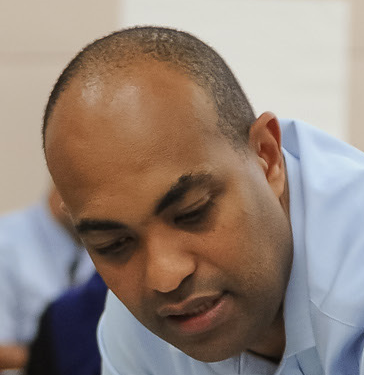 Moe Ba leads the Innovation Programme for the Development Sector at the International Telecommunication Union, the UN specialized agency for ICT/Telecommunication.
His role is to help strengthen ITU Membership capacity to accelerate digital transformation. His passion is to help communities unlock their potentials through stakeholder empowerment and connecting opportunities to resources.
Prior to joining ITU, Mr. Ba spent several years in the private sector including working in Silicon Valley and internationally. He is an expert on innovation policy and the development of platforms focused on innovation, ICT and telecommunication.
This article is written in a personal capacity and doesn't engage the organization that I am currently working for.
This post was edited on Aug 5, 2019 by Moe Ba
Comments (3)
Wow! I have been to the valley of death once. Thank you ITU FOR this toolkit. I believe a Unicorn will emerge from my community
ICT the future of the world .. to change our communities
Nice write up with high quality insight. If your idea was to inspire the young to get think about their ecosystems, then you have a catch. I am in